Yuk, Mengintip Keseruan Road to Mangafest 2017
Himpunan Mahasiswa Sastra Jepang (HIMAJE) UGM tahun ini kembali mengadakan MangaFest. MangaFest merupakan festival budaya populer Jepang terbesar di kelasnya. Sebelum acara utama dilaksanakan, terdapat juga beberapa rangkaian acara lain, salah satunya Road To MangaFest.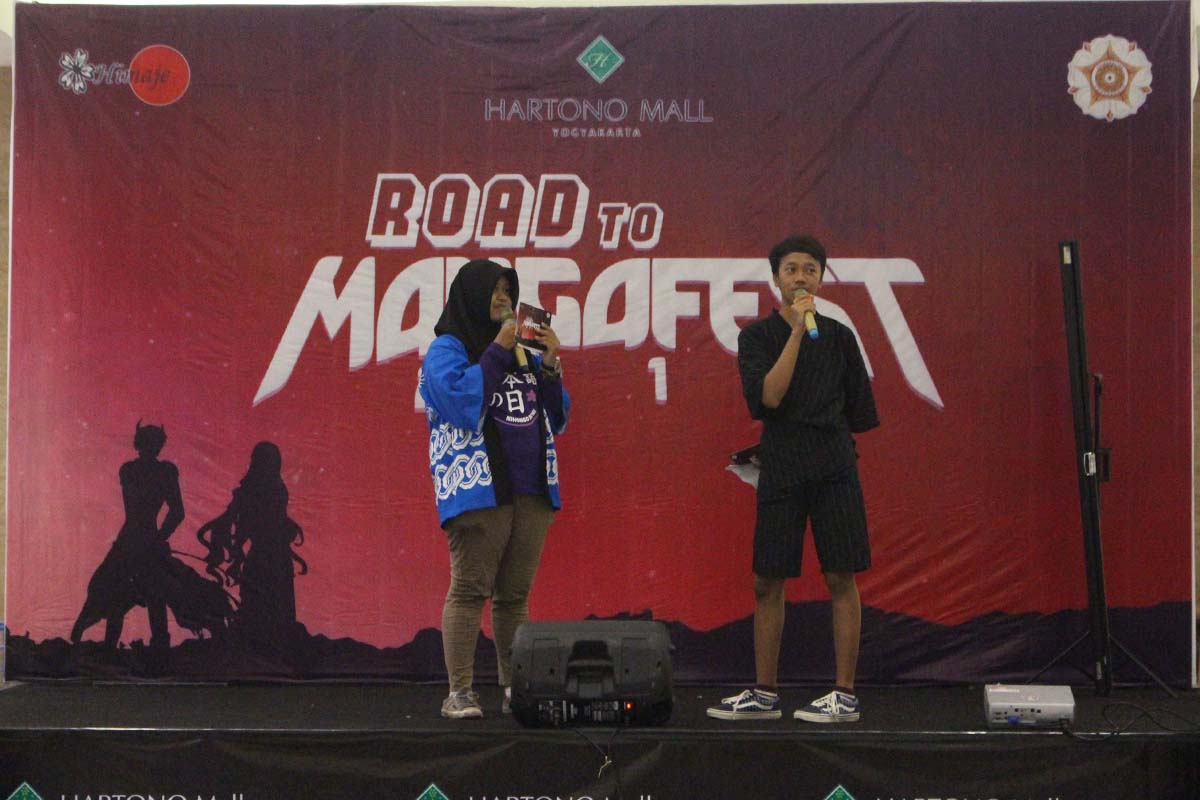 Road to Mangafest atau RTMF merupakan acara pembuka sebelum acara utama MangaFest. RTMF kali ini diselenggarakan pada hari Sabtu (7/10) di lantai Upper Ground Hartono Mall , Yogyakarta. Pada acara RTMF ini diadakan lomba tebak lagu anime, kuis-kuis, penampilan beberapa performer dan juga penjualan presale tiket MangaFest 2017. Selain itu, pengunjung juga bisa bertanya-tanya mengenai MangaFest, mendaftarkan tenant serta mendaftarkan diri untuk lomba-lomba yang ada di Mangafest nantinya.
RTMF dibuka pada pukul 11.00 untuk pendaftaran lomba tebak lagu anime. Sedangkan untuk penjualan tiket pre-sale dibuka pada pukul 13.30. Pada RTMF kali ini sejumlah 999 tiket seharga 20 ribu rupiah ludes, terjual habis. Penjualan tiket kali ini dibagi menjadi 3 sesi dan masing-masing sesi hanya terdapat 333 tiket. Antusiasme pengunjung yang sangat tinggi dibuktikan dengan panjangnya antrian pada tiap sesi.
Selain penjualan tiket presale, pengunjung juga dihibur dengan adanya lomba tebak lagu anime dan juga penampilan dari para performance. Perebutan untuk menjadi juara dalam lomba tebak lagu anime berlangsung sangat heboh. Pemenang lomba ini mendapatkan hadiah sebesar 250 ribu rupiah. Dengan luasnya pengetahuan dalam bidang anime membuat para peserta maupun penonton bernafsu untuk segera menjawab musik yang diputarkan oleh panitia.
Keseruan acara Road to MangaFest 2017 tidak berhenti disitu saja, pengunjung juga heboh ketika adanya penampilan idol-idol grup seperti Good Shine Girls, Akarui, dan E-Quors. Adapula Hikari yang menampilkan tarian ala Jepang dan Paguyuban Ditinggal Rabi yang bersenandung sambil bergurau. Himaje Band, Akarui, Langit Cerah Band, Old Clock, BST221B, dan Shitagi Uma juga ikut memeriahkan acara Road to MangaFest 2017.
Road to Mangafest 2017 telah sukses berjalan dengan lancar dan berlangsung meriah. Untuk keseruan yang lebih besar lagi, jangan lupa ikuti acara utama Mangafest 2017 pada tanggal 25-26 November yang diselenggarakan di Jogja Expo Center (JEC), Yogyakarta.
Sampai Jumpa di keseruan MangaFest 2017!